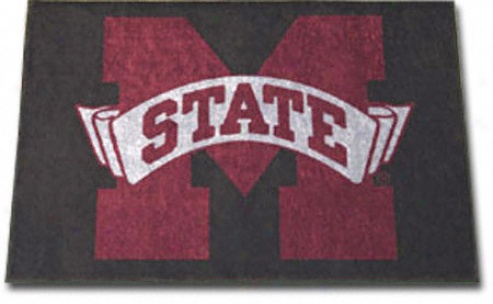 Vernonne and Bryce Unger met when they were both at State. Their romance was conducted in a maroon haze, for their families were avid State fans---both sides, and had been since the Twenties. They'd graduated and had a wedding (Maroon color scheme in JULY) within the same three months, settling right into their new house just in time to kick off the Football Season
.
They'd been given Season Tickets by her parents as a wedding gift, and have bought their own in all the succeeding years, driving down and staying Game Weekends in their apartment in Starkville.
Ungers have had apartments in the same just-off-campus building for decades, used only for the Friday-to-Sunday of a State game. They are big on Tailgating, and load coolers, grill, tent, tables, chairs and portable bar into the immense vehicles necessary for transporting such an undertaking.

Nonny spends all day Thursdays and part of Friday making enormous amounts of Things In Dishes, as they call them---big Tupperwares of Pasta Salads and Paminna Cheese and Crab Dip and marinated vegetables and beans-to-bake for the grill, as well as the sauce for the grilled Buffalo Wings. Her Hair Appointment is always at eleven on Friday, and she goes straight from dryer to highway, rolling on down toward Starkville to meet the rest of the group, who had loaded both her vehicle and theirs, and gone on ahead in the Tahoe.
They park at "Their" spot on campus, set up the big maroon-and-white marquee tent and the tables and chairs and grill, and immediately, the weekend is ON. They are very popular amongst the Tailgate crowds, some of whom have been making the same trip for the same years; they are much like a Church Supper crowd, everybody knowing everyone else's cooking and setup, with the families and friends moving back and forth amongst the tents and shelters with the ease of long-standing familiarity. Old Mr. Melrose, from over't Sidon 'n' Cruger way, usually walks up using his tatty old aluminum lawn chair as a walker, sets it down amongst the menfolks, and munches his way through most of a bowl of her Tunafish Salad with a whole sleeve of Premiums, between Lunch and Kickoff.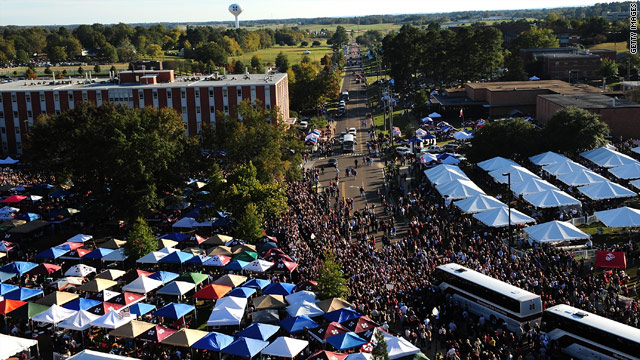 cnn photo
Their lifesize concrete "Bully" statue on their big brick front porch at home has a smaller twin which lives in the apartment. That one is carried to each and every game within reasonable distance---home and away---and parked with proper reverence in a prominent spot in the tent. He has his own little specially-painted-maroon Radio Flyer woodside wagon, loaded in and out of the vehicles and just rolled right in like a tee-ninecy parade float, and everybody who comes by has to give him a little head-rub or scratch behind the ears, for luck.
Their two children are named Molly Stewart Unger and Myron Sims Unger---a bit of fan fanaticism not lost on either their friends nor the two young folks.

Mrs. Unger's Maiden name was Stewart, and she had definite ideas about girls' names. Being limited to "M's" by the cutesy factor of the thing, she discarded Mary as too obvious, being so well-used and common and all, and names like Melissa and Melinda felt to her like ruffles on a dress, blowin' in the breeze. There was already one Margaret in the family, the only Mandy she knew was the Covington's maid, and Myra and Millie were SO old-fashioned---so Molly it was.

Grandma Stewart named the boy, for two famous people she admired: Myron Floren of the

Lawrence Welk Show

, and Lydel Sims of

The Commercial Appeal,

and neither of the honorees ever knew. It was probably just as well. . .